The suction pit is the most important part of the radon system.  With out a good suction pit the radon system will not be effective in reducing radon levels.  The size and shape of each suction pit is different for each home.  The suction pit needs to be larger in size the more compacted the soil under your home.  The suction pit should maximize the amount of gaps and cracks in the soil that are connected to maximize the collection of radon.  In general there are gaps around plumbing pipes, foundation footings and water lines.
Making the hole
We use a bucket that is connected to a vac with a fine particulate filter.  This creates a dust capture area to keep our workspace and your home as clean as possible.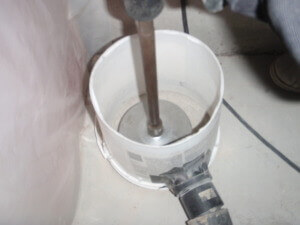 We start with a core drill to create a clean cut in the concrete so that the finished installation looks clean.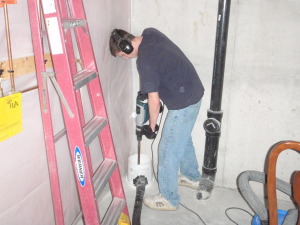 We then use a jack hammer to create the rest of the hole, that will allow us to remove soil from beneath your home and connect the vent pipe to the suction pit.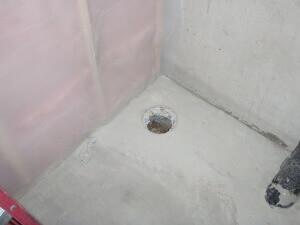 Removing Soil
We have multiple methods for removing soil from beneath your home and we use the same vac with filter to keep the dust down.  For homes with drain tile, the suction pit can be connected to the drain tile.  These systems are very effective in reducing radon levels since the drain tile becomes the radon collection area around the whole house.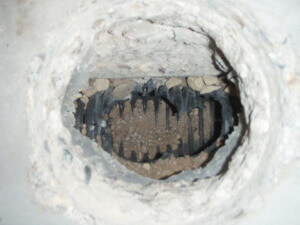 Homes that have gravel beneath the floor are also very effective in reducing radon levels.  This is because the gravel creates a lot of air space, for air to travel to the vent pipe.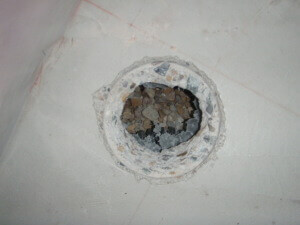 For homes that have sandy soil, larger suction pits are need to find the maximum about of air pathways in the ground.  Sometimes there are multiple types of soil under your home and we just need to get access to the soil that allows more air flow.  The photo below was tight sand and then there was a layer of sand with large rocks that allowed for good air flow.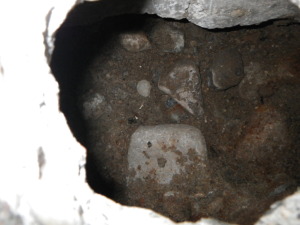 Connecting the pipe
The radon vent pipe is inserted into the suction pit.  The end of the pipe should be at least 1 inch below the concrete floor to ensure the water, that comes down the pipe, does not touch the concrete.  If the pipe is not below the concrete far enough the concrete will get wet.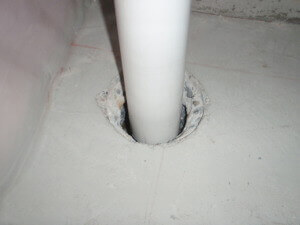 Foam backer rod is put between the pipe and the concrete floor.  This helps to create a seal and keeps the vent pipe in right location, in our hole, while the concrete hardens.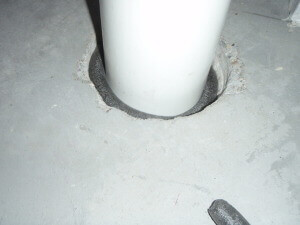 Concrete is added to the hole to create an air tight seal and a durable connection between the vent pipe and the concrete floor.