Radon Reduction Inc. (RRI) was formalized and incorporated in 2006.  RRI was started with the sole purpose to focus on the radon industry in Minnesota by providing radon testing and radon reduction systems.  Prior to that Gary Vaness had radon as a smaller piece of his business.
Gary Vaness – President
Gary has been working in the construction industry since 1981.  From 1981 to 1995 he owned a general contracting company that focused on new construction and remodeling.  In 1995 Gary made the transition from a full time contractor to a pre-purchase home inspector.  In 1996 he became certified in Radon testing and offered that as a service to his home inspection customers.  In 2014 Gary decided to close his home inspection business to focus solely on RRI.
Gary has been certified in radon mitigation since 2006; and has held the Minnesota Department of Health Advanced Diagnostics designation since its beginning.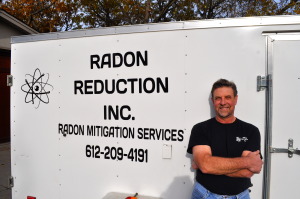 Jake Vaness – Vice President
Jake has a Business Degree from the University of Minnesota that he uses to manage the day to day operations of the company.  Jake has been installing systems since the company was founded and he became a lead installer in 2009, when he was certified in radon testing and mitigation.  In 2014 Jake received the Minnesota Department of Health Advanced Diagnostics designation.