Location: Bloomington, MN
Cost: $1350
Initial Radon Level: 10.0 pCi/L
Post Mitigation Radon Level: 0.5 pCi/L
The nice thing about "most" homes in Bloomington is that the soils have course sand.  Course sand allows for good air flow, to collect radon under the basement floor.  For this radon mitigation system we created a large suction pit, wedged the radon pipe between the ductwork and installed a u-tube in the basement.  The u-tube is a visual indicator that the radon fan is still running.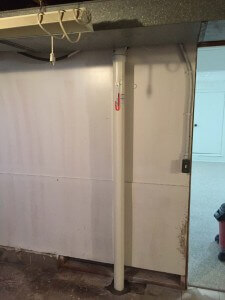 On the first floor we ran the radon pipe through a closet to get the pipe into the attic.  The pipe was conveniently located to the attic access, so maintenance on the fan will very easy in the distant future.
In the attic we connected the radon fan.  The electrical connection was supplied by a licensed electrician.  A black radon vent was selected to match the other vents on the roof.
We were able to complete this project on time and reduce the radon levels. If you need your home tested for radon or a radon mitigation system installed to reduce your radon levels, please don't wait to protect yourself and your family, contact us now.