Location: Bloomington, MN
Cost: $1875
Initial Radon Level: 4.8 pCi/L
Post Mitigation Radon Level: 0.6 pCi/L
We would consider this home challenging because, a home with a crawlspace and a low starting radon level can be difficult to effectively reduce the radon level.  This home did have a drain tile loop, so we were confident we could reduce the radon levels.
The sump basket was sealed, a view port added and the radon vent pipe attached.  The vent pipe went all the way through the crawlspace and another suction point was added to the sealed crawlspace.
The crawlspace was completely sealed with cross-laminated poly (the tough stuff).  We use a double side, extremely durable tape that bonds the poly to the block wall.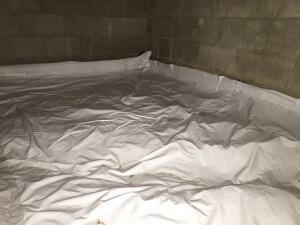 In the garage, the radon vent pipe continued.  Fire collars were added to both ends of the pipe to prevent the spread of fire.  A u-tube was added to show that the radon fan is still working.  In the garage attic we attached the radon fan and installed a black radon vent through the roof.  The electrical connection, for the radon fan, was installed by a licensed electrician.
We were able to complete this project on time and reduce the radon levels. If you need your home tested for radon or a radon mitigation system installed to reduce your radon levels, please don't wait to protect yourself and your family, contact us now.