There are a few things to remember and consider when selling your home:
1)  There are disclosure requirements specific to radon
2) Testing your house for radon before listing, can reduce the uncertainty
3) Having a radon mitigation system, could increase your homes marketability
Radon Disclosures
The Minnesota Radon Awareness Act requires specific disclosure and education be provided to potential home buyers during residential real estate transactions in Minnesota. This publication is being provided by the seller in order to meet a requirement of the Act. In addition, before signing a purchase agreement to sell or transfer residential real property, the seller shall disclose in writing to the buyer any knowledge the seller has of radon concentrations in the dwelling.
The disclosure shall include:
whether a radon test or tests have occurred on the property;
the most current records and reports pertaining to radon concentrations within the dwelling;
a description of any radon concentrations, mitigation, or remediation;
information regarding the radon mitigation system, including system description and documentation, if such system has been installed in the dwelling; and
a radon warning statement
Radon Warning Statement 
"The Minnesota Department of Health strongly recommends that ALL homebuyers have an indoor radon test performed prior to purchase or taking occupancy, and recommends having the radon levels mitigated if elevated radon concentrations are found. Elevated radon concentrations can easily be reduced by a qualified, certified, or licensed, if applicable, radon mitigator.
Every buyer of any interest in residential real property is notified that the property may present exposure to dangerous levels of indoor radon gas that may place the occupants at risk of developing radon- induced lung cancer. Radon, a Class A human carcinogen, is the leading cause of lung cancer in nonsmokers and the second leading cause overall. The seller of any interest in residential real property is required to provide the buyer with any information on radon test results of the dwelling."
Radon Testing before listing
We use professional radon testing monitor when conducting our tests.  These monitors only take 48hrs to get an accurate reading and we can provide results immediately after testing has completed.  Our
radon testing
page has more information on where, who, when, etc. we test.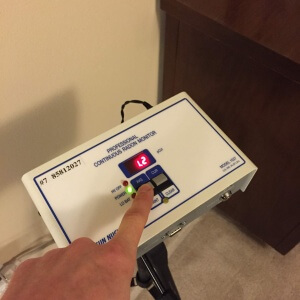 Radon Mitigation before listing