Location: Brooklyn Center, MN
Cost: $1350
Initial Radon Level: 10.0 pCi/L
Post Mitigation Radon Level: 0.5 pCi/L
Having clay soil under your home can make it difficult to reduce the radon level because clay doesn't allow air to move easily.  There are multiple sizes of fans that we can use, to match the right fan to the soil conditions.
We created a large suction pit in this home to maximize the area under the floor that could collect radon.  We installed a u-tube to indicate that the fan is still running.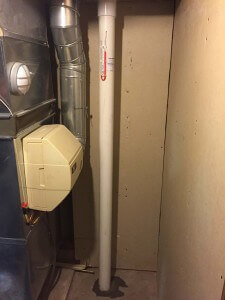 The radon pipe continues through a first floor closet.  With shelving we always create a clean hole for the radon pipe to run through.  This gives are systems a nice finished look.
In the attic a fan that is designed to work well with clay soils was installed.  The electrical connection was supplied by a licensed electrician.  A black radon vent was used to match the other vents on the roof.
We were able to complete this project on time and reduce the radon levels. If you need your home tested for radon or a radon mitigation system installed to reduce your radon levels, please don't wait to protect yourself and your family, contact us now.