Location: St. Louis Park, MN
Cost: $1400
Initial Radon Level: 4.8 pCi/L
Post Mitigation Radon Level: 1.0 pCi/L
This was a nice, straight forward, interior radon mitigation system to install.  There was drain tile under the basement floor that allowed us to draw the radon out of the soil.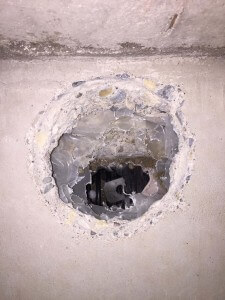 The radon pipe goes from the drain tile, up the basement wall and over to the first floor closet.  A u-tube was installed to show when the fan is running.
In the first floor closet the pipe continues, with a slight jog over, into the attic.  The jog was required to get around part of the framing in the attic.  On each floor, a radon mitigation system label is added to the pipe to ensure in the future it is not repurposed.
The radon fan is located in the attic and the electrical connection was supplied by a licensed electrician.  A black radon vent was used to match the other plumbing vents that go through the roof.
We were able to complete this project on time and reduce the radon levels. If you need your home tested for radon or a radon mitigation system installed to reduce your radon levels, please don't wait to protect yourself and your family, contact us now.