Location: Minneapolis, MN
Cost: $2675
Initial Radon Level: 10.0 pCi/L
Post Mitigation Radon Level: 0.7 pCi/L
This was a big job:
sealing a crawlspace
running a radon pipe over a finished room
installing a suction point in the basement floor
mounting a fan and vent pipe on the exterior of the home
The crawlspace was fairly large and just deep enough to make the work easy.  When crawlspaces are not deep enough it requires more work to get it sealed properly.  We connected a pipe, that was run across the basement, over a finishing ceiling.
We installed a suction pit in the basement floor and connected it to the crawlspace pipe. The pipe continued across part of the basement and out the rim joist to the exterior.
On the exterior we mounted the radon fan.  The electrical connection was supplied by a licensed electrician.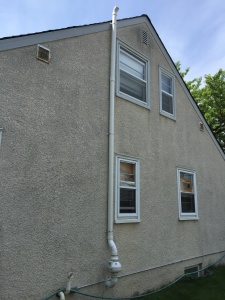 We were able to complete this project on time and reduce the radon levels. If you need your home tested for radon or a radon mitigation system installed to reduce your radon levels, please don't wait to protect yourself and your family, contact us now.