Location: St Louis Park, MN
Cost: $1400
Initial Radon Level: 4.8 pCi/L
Post Mitigation Radon Level: 0.6 pCi/L
When older homes have had a lot of additions over the years, the pipe routing can be difficult.  In this home we had to route the pipe from one end of the basement to the other, because the best place for a suction pit was not in a "convenient" location.  We locate our suction points where they will create the biggest radon reduction.  We use pressure field extension to determine where that suction pit should be.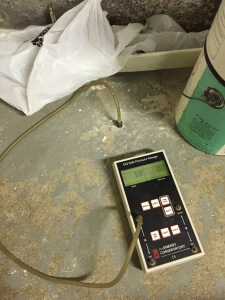 The suction pit used an abandoned hole through one of the foundation walls, ran across the old basement, through the basement stairwell and out into the garage.
In the garage, fire collars were added to both ends of the pipe to prevent the spread of fire.  A u-tube was attached to the radon pipe to indicate that the radon fan is still running.  In the garage attic a radon fan was installed and black radon vent, to vent the radon outside.
We were able to complete this project on time and reduce the radon levels. If you need your home tested for radon or a radon mitigation system installed to reduce your radon levels, please don't wait to protect yourself and your family, contact us now.