Location: Richfield, MN
Cost: $1575
Initial Radon Level: 6.9 pCi/L
Post Mitigation Radon Level: 0.9 pCi/L
This home did not have a lot of options to route the pipe through the house but we were able to use the old laundry chute.  A suction pit was created under the basement floor to collect the radon from the soil, so that it can be vented outside.
The old access panel to the laundry chute was removed so that we could get the pipe all they way up into the attic.  In the attic the radon fan was connected to the pipe and the electrical connection was supplied by a licensed electrician.
A black radon vent pipe was used to match the other plumbing vents already on the roof.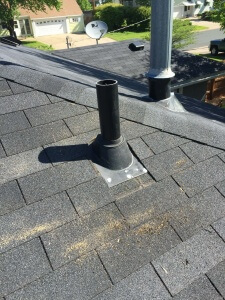 We were able to complete this project on time and reduce the radon levels. If you need your home tested for radon or a radon mitigation system installed to reduce your radon levels, please don't wait to protect yourself and your family, contact us now.