Location: Lakeville, MN
Cost: $1600
Initial Radon Level: 4.9 pCi/L
Post Mitigation Radon Level: 0.8 pCi/L
With an unfinished basement storage room, an attached garage and drain tile, this home was a quick and effective install.  The radon mitigation system was connected to the sump basket and the drain tile loop was used to collect the radon under the home.  The radon pipe goes up the basement wall and a u-tube was installed, to indicate the fan is running.
The pipe continues in the garage and into the garage attic.  Red fire collars are used to ensure that if there is a garage fire the radon pipe would be crushed, reducing the chance of the fire spreading to the house.  In the attic a radon fan is connected and vented out the garage roof.
A black radon vent was used to match the other plumbing vents on the house.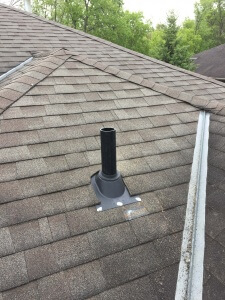 We were able to complete this project on time and reduce the radon levels. If you need your home tested for radon or a radon mitigation system installed to reduce your radon levels, please don't wait to protect yourself and your family, contact us now.