Location: St. Louis Park, MN
Cost: $1150
Initial Radon Level: 11.7 pCi/L
Post Mitigation Radon Level: 0.4 pCi/L
This home had multiple challenges: a partial drain tile system, no interior pipe route and lots of windows.  The radon mitigation system was connected to the sump basket.  A sealed sump lid with a view port was installed.  The drain tile material along the basement wall had to be sealed, to create an efficient and effect radon mitigation system.  A u-tube was added to the pipe in the basement to indicate when the fan is running.
The radon fan is located on the exterior of the house.  The electrical connection was supplied by a licensed electrician.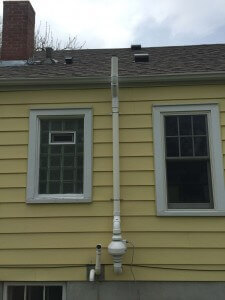 We were able to complete this project on time and reduce the radon levels. If you need your home tested for radon or a radon mitigation system installed to reduce your radon levels, please don't wait to protect yourself and your family, contact us now.