Location: Eden Prairie, MN
Cost: $1525
Initial Radon Level: 10+ pCi/L
Post Mitigation Radon Level: 0.6 pCi/L
This radon mitigation was straight forward to install and the sump basket with drain tile allowed the system to be very effective.  Although the snow came back for a little while we were still able to put this job in, on the scheduled date and time.
In the basement we added a sealed sump basket lid.  To clarify here, we don't actually use white caulk, as seen in the photos.   We use clear caulk but when the caulk is applied it is white in color so that we can see that we sealed everything.  As the caulk dries it turns clear.  The pipe is run up the basement wall, into the ceiling and out into the garage.
The pipe coming into the garage has a fire collar installed.  The pipe goes up into the garage attic and over to the rear part of the garage roof.  A u-tube manometer was added to the pipe so you can easily tell if the fan is running.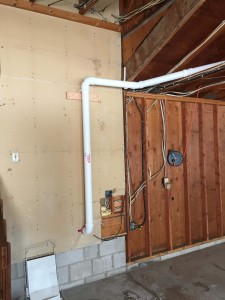 The radon fan was installed in the garage rafters and the electrical connection was provided by a licensed electrician.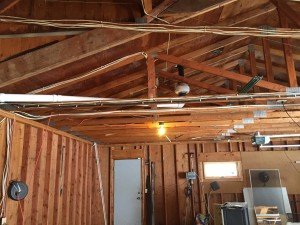 A black radon vent pipe was used to match the other plumbing vents.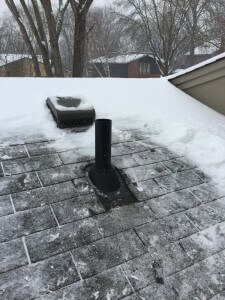 We were able to complete this project on time and reduce the radon levels. If you need your home tested for radon or a radon mitigation system installed to reduce your radon levels, please don't wait to protect yourself and your family, contact us now.