Location: Mound, MN
Cost: $1450
Initial Radon Level: 8.0 pCi/L
Post Mitigation Radon Level: 0.5 pCi/L
This home was a little tricky, so we busted out the Micro-Manometer to measure the amount of pressure that we could create with the radon mitigation system.
This home had an old style of drain tile, but we were still able to install a radon mitigation system and seal the sump basket.  On this job we had to reuse the metal sump basket lid, but we were still able to seal the lid and install a view port, to ensure that the mitigation system is as efficient and effective as possible.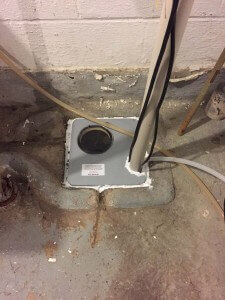 We connected to the old drain tile and ran the radon pipe up an exterior wall.  The pipe continues over to the middle of the basement where we were able to run the radon pipe up, through the first floor, and into the attic.
The radon fan was installed in the attic, to ensure if there are ever was a leak in the system the radon fan will draw the radon up to the attic.  The electrical connection was installed by a licensed electrician.  A black radon vent was installed to match the other plumbing pipes.
We were able to complete this project on time and reduce the radon levels. If you need your home tested for radon or a radon mitigation system installed to reduce your radon levels, please don't wait to protect yourself and your family, contact us now.