Location: Minnetonka, MN
Cost: $1550
Initial Radon Level: 10.0 pCi/L
Post Mitigation Radon Level: 2.2 pCi/L
This project brought two challenges that were at odds with each other.  First, there was a dirt crawlspace that needed to be sealed.  This can be accomplished easily but sealed crawlspaces usually require a high volume of air to be removed from under the membrane (poly) to maximize the radon reduction.  Second, the soil under the basement floor was very tight, which doesn't allow a lot of air to move.  To get air to move in tight soils it requires a higher pressure then a normal system.
In the crawlspace we installed a 3-mil cross laminated poly barrier that was sealed to the crawlspace walls.  This barrier creates a collection point for radon.  A 2″ PVC pipe was connected to the radon collection area.  This 2″ PVC pipe reduced the amount of air that can be drawn from under the poly barrier and increases the pressure in the radon system.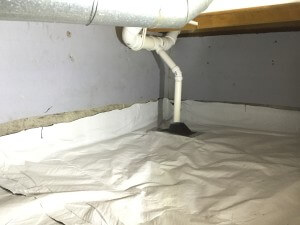 A 3″ PVC pipe is run out of the crawlspace, into the basement and to a suction pit under the basement floor.  The 3″ pipe will allow the increased pressure in the system to draw as much radon as possible to the suction point.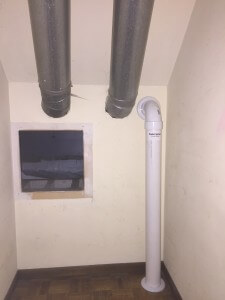 The pipe runs out of the crawlspace and into the garage.  A fire collar was installed where the pipe enters the garage.  A u-tube manometer was installed to indicate if the fan is currently running.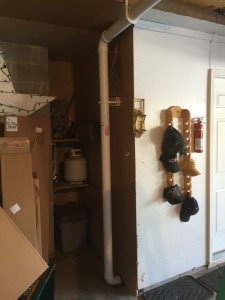 The radon fan was installed in the garage attic.  A larger fan then normal was needed to create a high pressure system.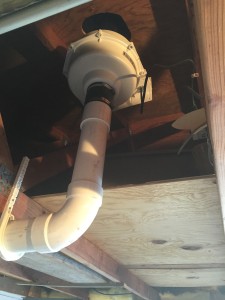 The vent pipe exits through the rear roof of the garage.
Even with the unique challenges of having two types of systems installed in this house we were able to complete the project on time and reduce the radon levels.
If you need your home tested for radon or a radon mitigation system installed to reduce your radon levels, please don't wait to protect yourself and your family, contact us now.