Location: Eden Prairie, MN
Cost: $1525
Initial Radon Level: 9.5 pCi/L
Post Mitigation Radon Level: 2.8 pCi/L
This project was relatively straight forward, except for the basement bathroom was between the sump basket and the garage.
The sump basket was sealed and a sight hole added.  A rubber coupler was added to the radon pipe, to allow for disconnecting the pipe, if access to the sump basket is needed.  The large crack in the floor and the joint where the basement floor and block wall meet was caulked to create an air tight seal.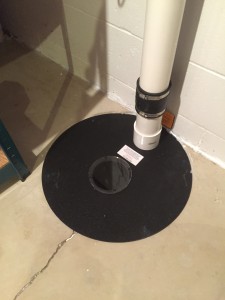 The radon pipe was run up and across the basement utility room.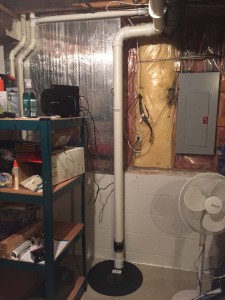 The basement bathroom ceiling was lower than the floor joists, which allowed us to route the pipe above the bathroom ceiling.  The hole was made in the garage and the pipe was slid into place.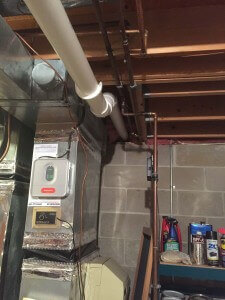 The pipe is run through the garage with fire collars at both ends.  The other pipe running through the garage in this photo is the clothes dryer exhaust.  A u-tube manometer was added to the pipe to indicate if the radon fan is running.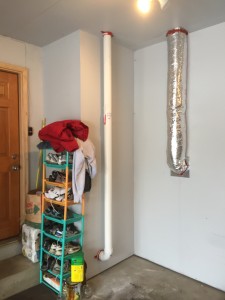 The radon fan was installed in the garage attic.  The electrical connection was provided by a licensed electrician.
The radon vent pipe exits the garage roof and a metal roof boot was used since the shingles are wood.  A black radon vent pipe was used to match the other plumbing vents.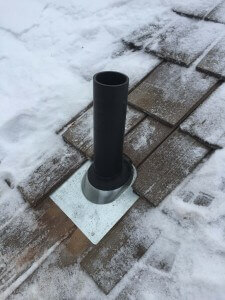 We were able to complete this project on time and reduce the radon levels.
If you need your home tested for radon or a radon mitigation system installed to reduce your radon levels, please don't wait to protect yourself and your family, contact us now.