Location: Champlin, MN
Cost: $1500
Initial Radon Level: 8.0 pCi/L
Post Mitigation Radon Level: 0.5 pCi/L
This job was a pleasure to work on and had one of the cleanest crawlspaces we have had the opportunity to install a radon mitigation system.  The home is a simple rambler with an attached garage.  The main entry to the house was over a crawlspace which allowed us to run pipe under the entry into the garage and not up through the house.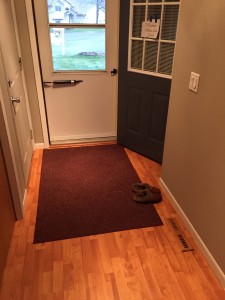 The sump basket was sealed and a plexiglass site hole was installed.  We install site holes on all our sump baskets so that you can keep an eye on the water levels.  We also install rubber couplers so that the radon vent pipe can be easily removed, if you need to remove the cover.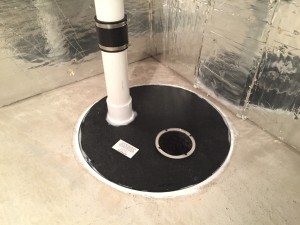 The vent pipe is 3″ schedule 40 PVC.  The pipe uses the sump basket and drain-tile to collect soil air and radon gas from the ground.  The vent pipe goes up and through the rim joist into the garage.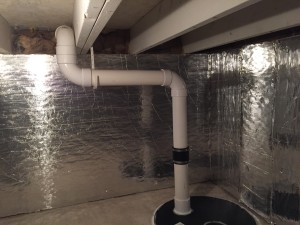 The pipe continues up through the garage and into the garage attic.  A u-tube manometer is installed so that you can easily see if the radon mitigation fan is working.  There is a label on the pipe with our contact information if you ever do need to contact us.  Fire collars are installed at the bottom and top of the pipe, since the pipe passes through two firewalls.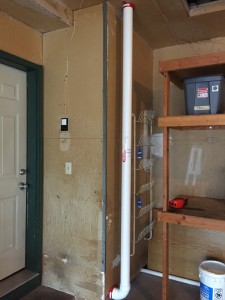 The radon vent pipe, in the garage attic, is installed near the attic access so that the fan can be easily serviced, if needed.  A pipe hanger is used to hold the pipe off the structural framing of the house so that the vibrations of the fan are not heard inside the home.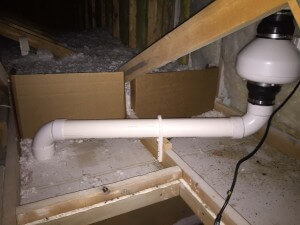 The pipe exits the garage attic to vent the radon outdoors and away from any opening in the home, that would let radon back into the living space.  Our electrical work is always performed by a licensed electrician (not pictured).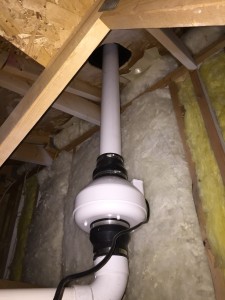 A white radon vent is installed to match the other plumbing vent pipes already installed.  The color of the radon vent pipe is determined by the homeowner and a black vent pipe could have been installed.
If you need your home tested for radon or a radon mitigation system installed to reduce your radon levels, please don't wait to protect yourself and your family, contact us now.