Location: Mound, MN
Cost: $1450
Initial Radon Level: 6.0 pCi/L
Post Mitigation Radon Level: 0.3 pCi/L
January is National Radon Action Month and we will be posting a featured project every Monday.
Since there is a drain tile system in this home we needed to cover and seal the existing sump basket.  All of the covers that we install have a clear sight hole, so that you can check the water level and access the pump if you need to make sure its working.  Our covers are also removable, if the pump ever needs to be replaced.  If the cover is ever removed it will need to be re-sealed to ensure the radon mitigation system is working effectively.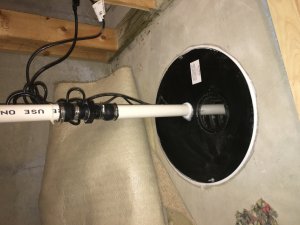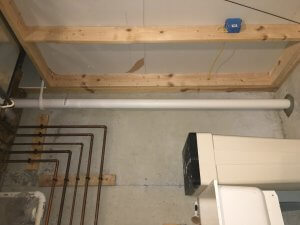 There are two key safety devices in most radon mitigation systems.  Anytime a radon mitigation pipe goes through a fire wall, a fire collar needs to be installed to ensure that fire does not easily pass through the new hole.  Also, a u-tube needs to be installed on every system so that you can tell that the radon mitigation fan is still running.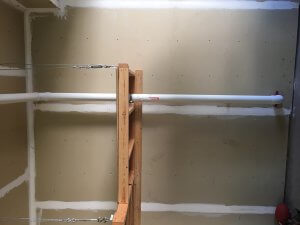 The radon fan should always be located in a location that is not connected to livable space, in your home.  The radon vent also needs to be located at least 10 feet away from any opening into the home.  On this job we needed to run the radon mitigation vent pipe through the garage to get far enough away from the windows on the house.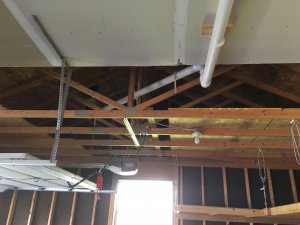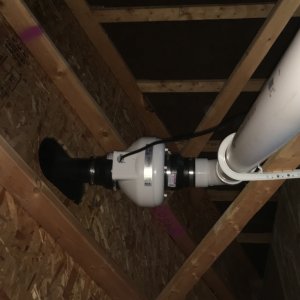 We select each radon vent pipe to match the other pipes on the roof.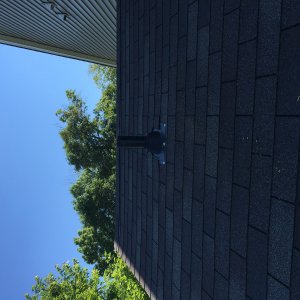 We were able to complete this project on time and reduce the radon levels. If you need your home tested for radon or a radon mitigation system installed to reduce your radon levels, please don't wait to protect yourself and your family, contact us now.