Location: Plymouth, MN
Cost: $1475
Initial Radon Level: 9.0 pCi/L
Post Mitigation Radon Level: 0.3 pCi/L
This rambler was a straight forward install and we were happy to reduce the homeowners exposure to radon.  Now their family will not be exposed to high levels of radon during movie night.
The sump basket did not have a sealed cover so we installed one to stop radon from entering the home.  This sump basket also allowed for the radon pipe to draw the radon from the drain tile.
The radon pipe goes up and over to a first floor closet.  A u-tube was added to the pipe to indicate if the fan was running.
The shelf in the closet had a hole drilled through to allow a tight fit to the radon pipe.  The radon pipe then continues into the attic.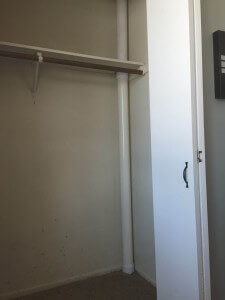 The radon fan was installed in the attic.  The radon fan should always be installed in the attic so that the radon pipe is never pressurized inside the home.  The electrical connection was supplied by a licensed electrician.
The radon vent was installed with a black pipe to match the plumbing vents already installed.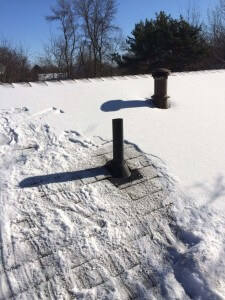 We were able to complete this project on time and reduce the radon levels.
If you need your home tested for radon or a radon mitigation system installed to reduce your radon levels, please don't wait to protect yourself and your family, contact us now.